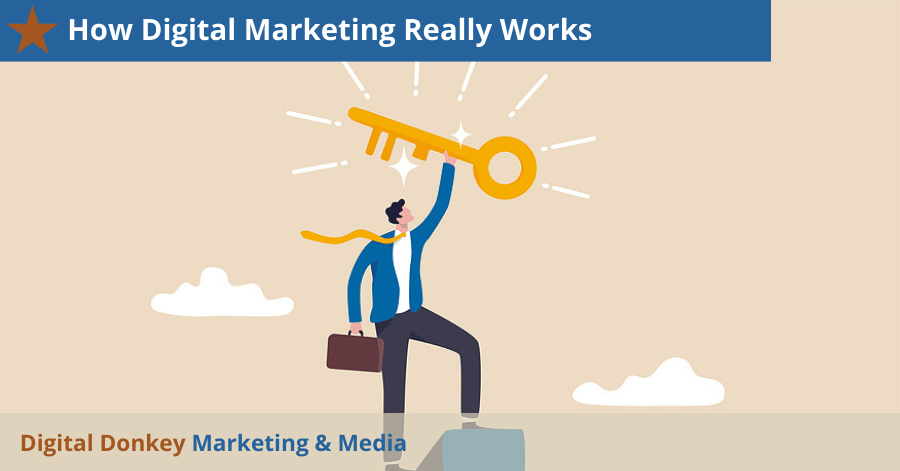 ---
My goal in this article is to de-mystify digital marketing and share with you how digital marketing really works. Ken has been successfully using these strategies for his digital marketing clients for over 20 years now and we used the same techniques on Hello Georgetown when we owned it from December 2015 until we sold it in April 2020.
"Ken's SEO program has produced fabulous results for my client so far…they've quickly gone from 1 lead a month to 2-3 a week. Now that's quantifiable results. Kudos Ken. You rock!"
Adrianne Machina – Owner – Tornado Marketing
When we sold HelloGeorgetown.com in April of 2020; we were consistently enjoying over 100,000 unique visits per month to that website and we used these exact techniques to make that happen!
We're working on some case studies to share, but for now, I thought you might be interested in an explanation of what it is we do and How Digital Marketing Really Works. So let's jump right in.
Before the internet, marketing used to be a process of getting folks to your store or to call you for a service. The options were the Yellow Pages, signs, print ads, etc. Now statistics tell us that 81% of retail shoppers conduct online research before buying!
Think about what that means. Buyers are looking online before they buy. And how are they looking? They are searching on Google and other search engines.
This means our job is to get the search engines to recognize and trust your company website more than other similar companies' websites and to bring your company to the top of search results when someone searches for your products and services!
It's really a very simple concept that you already know about. The question is how do we do that? The purpose of this article is to answer that question!
The entire matter comes down to this…In order to get found in search, you've got to get Google's and the other search engines' attention, and get them to trust you!
It's a must that your website's primary pages be prepared in a way that clearly expresses your product and/or service details. This is a matter of writing title tags, descriptions, and image tags in a clear and concise manner for each of these pages.
Sometimes this requires certain SEO plug-in software or sitemap software to be added to your website. This adds behind-the-scenes coding that communicates with Google and the others even more clearly.
With statistics like this from 99Firms, "46% of all Google searches are linked to something local." it's easy to see just how important this is to get known and trusted by the search engines.
Conversely, it's easy to understand how not claiming, optimizing, and verifying these and keeping them up-to-date with proper and current information can hurt your chances of getting found in search.
Going a step further, we also make sure your information is correctly submitted to dozens of smaller online directories that are specific to your industry.
It's imperative that your online presence is comprehensive, accurate, up-to-date, and matching. This gives Google and the other search engines confidence and trust and goes a long way toward getting your business among those listed at the top of the search results.
Google loves original content and adding just one blog post per week communicates to Google that you are relevant!
These blog posts or articles can be about company news such as new employees, new products, and industry news. Or, posts can be about products or services you offer. They can answer questions and teach, much like the article you're reading does.
Then it's especially valuable that we share your fresh new content on your social media channels regularly. This will drive traffic to your website. If there's anything that makes you relevant in the eyes of the search engines, it's seeing people coming to your website.
It's a winning cycle. The more traffic you have the more traffic the search engines will send.
And that's basically all there is to it! It really is quite an understandable process to get visitors to your website and without that nothing else really matters. You might as well set up a billboard in the desert if no traffic comes to your website!
We hope this makes things a little clearer for you! Thanks for reading, liking, and sharing!
We are committed to answering your digital marketing questions. Please share your questions with us in the comment section below and we'll do our best to answer them, either in the comments or maybe in an article on the website.
Let's Get You Some More Business!
Here are the links to our service pages that will give you some more details about how we can help you with your online marketing:
WordPress Website Hosting and Management
Share this post…