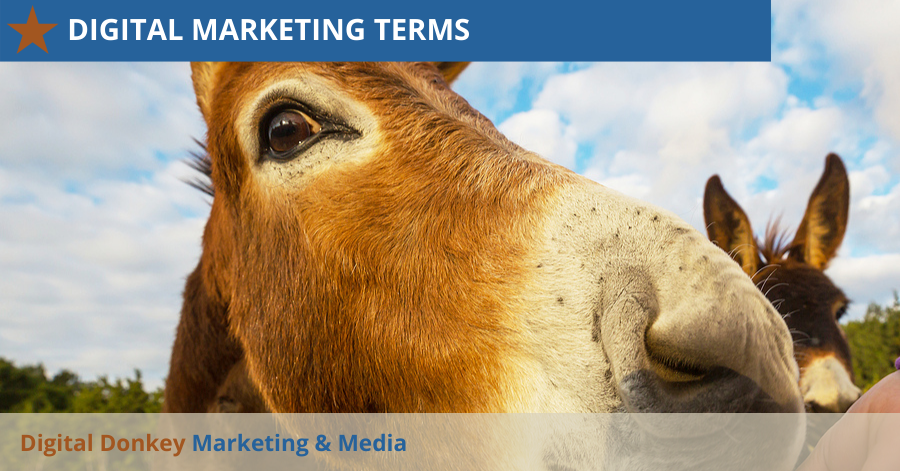 ---
Just like any other industry Digital Marketing has its own vocabulary. To help unravel the mystery we've put together a working list of regularly used terms.
In case we haven't met, we're Ken and Anne Partain and we have been helping our clients succeed online for over 20 years now. We're located in Round Rock, Texas but we have helped clients with their website and SEO needs all over the US and we've even had several clients located in Canada! If you'd like to see what we offer, including our pricing, please head over to our Digital Marketing Services page.
Now, on with the terms…
Analytics – Analytic data is used to track performance on websites, social media and email marketing. Website analytics give an overview of data such as number of website visitors, how long they were on the site, what pages they viewed, demographics and more.
Blog/Blogger/Blogging – The word "blog" was first used to describe a weblog or personal web diary of sorts. Now the term is used to describe the area of a website that consists of articles and/or videos. Sometimes the word blog is also used to refer to one of those articles. A Blogger is someone who writes articles for publication on websites. A blog can consist of just about any type of information from personal ideas and thoughts to business teachings. You are reading this information in a blog post on our "Blog".
Code (HTML, CSS, JavaScript) – This refers to any special characters or wording added to the back end of a website for the purpose of communicating with search engines. For our purposes, we are referring to coding such as title tags, meta descriptions, image tags, and schema markup.
Content Marketing – This is a popular strategy used by digital marketers. Google loves new, fresh, original content added regularly to a website. It is valuable to consistently produce unique articles, videos, and images and publish them to a website for the purpose of attracting the search engines and gaining better rankings in search results.
Hosting – Every website must be stored on a computer so that it can be accessed over the internet. A hosting company will 'host' your website on their special computer called a server.
Internal Links – These are hyperlinks created in the content on a website that, when clicked on, take the reader to more information on the same subject.
Long-tail Key Word Phrases – These are searches that are more specific and use more words. A long-tail keyword phrase would be "Does a heat pump save money?" or, "How do I get grass stains out of blue jeans?" The value is that these phrases are easier to rank for in the search engines.
Malware – Unwanted software that is placed on a computer to gain unauthorized access to or damage the computer system.
Mobile Responsive Website – This term suggests that a website that is designed to adjust to an easily readable version no matter what device is being used. The value being that visitors can easily see and use all the websites features on smaller and larger screens.
Page Load Speed – This is very important as it is a Google ranking factor. There are several things that can slow down the time it takes for a page to load such as the server, improperly edited images, not using a content delivery network, poorly written code, too many plug-ins and many more.
Besides the effect slow page load speed has on rankings it is also a big deterrent to your visitors. Most folks won't sit and wait very long for a page to load when there are so many other options available.
Plug-ins – A plug-in is software added to a website to allow for additional or expanded features and functionality.
PPC – This stands for Pay Per Click. Pay per click ads are found in the search results on Google. They are located at the top, and sometimes at the bottom of the results page. You'll notice a little bold "Ad" before what looks like any other search result. The company listed has paid anywhere from a few cents to hundreds of dollars for that spot. The pricing depends on the competition for the placement. Higher priced ads are usually placed by highly profitable companies.
Security Certificate – A small data file that makes the connection between your browser and the web server more secure. Google gives ranking benefits to those sites with a security certificate. And it protects personal info when visitors fill out forms on your website.
SEO – Also known as Organic SEO. This term stands for Search Engine Optimization. This consists of:
The configuration of your website to best attract search engines to your pages.
Clearly communicating with the search engines concerning what products and/or services you offer using back end coding such as title tags and descriptions.
And following the search engine's suggested guidelines.
All for the eventual outcome of being listed at the top of search results thereby driving quality traffic to your website.
Website Maintenance – Every website requires a certain amount of maintenance. This consists of managing back-ups, performing software updates, security scans, and other routine work needed to keep things up-to-date and in good working order. A lack of this maintenance can cause website failure and invite bugs and hackers.
WordPress – This is a very popular website platform. WordPress offers a do-it-yourself version and they also offer a professional version that is used by Website Developers like us. The WordPress platform is used by many notable big name brands such as Time Magazine, Sony Music, and Microsoft News; just to name a few.
That's it for now but we'll be adding more terms as time goes by.
We want to help with your success online! If you have questions please leave them in the comments or contact us.
Let's Get You Some More Business!!
"I've been working with Ken for at least 10 years now and he has helped me develop my mortgage blog to the extent I receive a pretty significant income from search engine clientele every month. I would refer Ken to anyone."
Brad Lynch Loan Officer – YourMortgageGuyForLife.com
Share this page…
You may also be interested in our Digital Marketing Services with Pricing:
Thanks for the visit!!