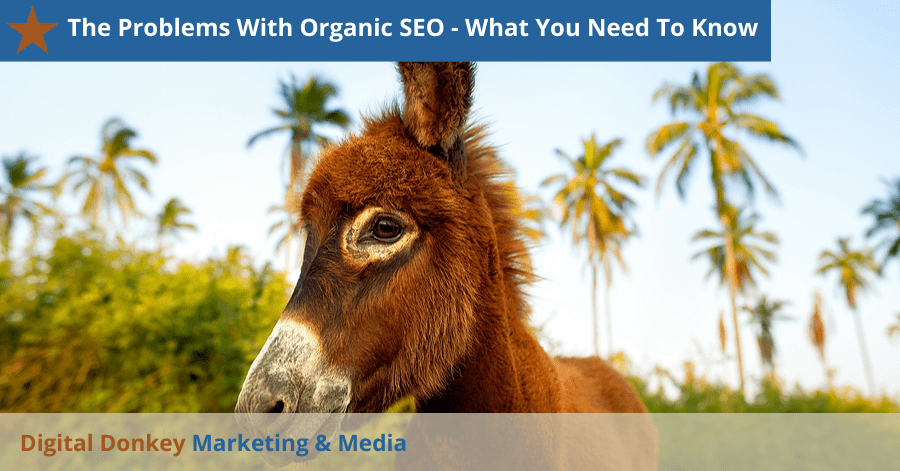 ---
Just like everything else, Organic (Not Pay-Per-Click) Search Engine Optimization has it's specific characteristics. We truly believe the good far outweighs the bad when it comes to getting found online through organic search, and it's a big mistake to overlook optimizing your website for organic traffic.
Weather you are still in the "thinking about it" stage or you are ready to pull the trigger, we wanted to share with you some information you'll need to know before you hire an SEO professional to help with your digital marketing.
If we haven't met before, allow us to introduce ourselves: we are Digital Donkey Marketing & Media, a small independent digital marketing agency in Round Rock, Texas that specializes in helping small businesses get found online!
We have been helping our clients get found online for 20+ years now and we feel we know a thing or two about what it takes to bring in online business. This page offers some of that insight for your consideration.
After all, we are a small business too, and we want to know what to expect, as best we can, when we are considering hiring help with our business needs.
Let's jump right in with what we want to share with you…
It Could Take Some Time
The first thing you should be aware of is that Organic SEO could take a bit of time, maybe 3 to 6 months or so, before you to start noticing changes in the volume of search traffic to your website. There are several factors that can affect how long it will take to see a change.
Domain Authority
This refers to how long your website has been active and indexed by Google and the other search engines. If your current website has been in existence for few years then your search traffic should increase sooner than later, after you begin blogging and sharing on Social Media.
Please note that just because your website has been online for a number of years does not necessarily mean it is being indexed by the search engines. There may be settings on your website that need to be turned on so that Google can access your website.
We have known of several cases in the past where the website developer neglected to give Google access. This is one good reason your website needs to be fully optimized for search so that it will be clearly communicating with the search engines.
Competition
Something else that can affect your traffic can be competition. If you are in a very competitive industry then there will be other businesses who have already completed the necessary steps to get to the top of search for the main key words. This is not a lost cause though, everybody has to start somewhere and the sooner you optimize your website, get your local search optimized and start adding quality content, the sooner you'll start seeing results!
Long Tail Keyword Phrases
This brings us to the next thing we want to share with you. Just because you may not compete for those most popular keywords does not mean you can't get organic traffic to your website.
There's something called "Long Tail Keyword Searches". These are searches that are more specific and have less competition in the rankings. This might be a question such as, "Why is my air conditioner making a humming noise?"
If you are a local HVAC professional and you have a blog post that answers this question then there's a very good chance your post will come up in the search results. Especially after Google has had some time to get to know you and where you are located. This is the reason if you are doing business locally it's imperative that you are optimized for local search.
This is why we are always talking about blogging. People searching on information concerning their air conditioner with long tail phrases like, "why is my air conditioner making a humming noise?" will usually pull up a post with a similar or exact title that answers the question.
In some industries there is greater competition for those top spots for the most searched on keywords, like 'Electricians in Austin', but for some small businesses it's a piece of cake to get found.
Take for example the search term 'Tailors in Georgetown Texas', when we owned HelloGeorgetown.com, we did an article in the business directory for Georgetown Tailor and they came up in the results every time someone searched for 'tailors in Georgetown Texas'. This was because of low competition and because HelloGeorgetown.com was a strong competitor in the search results.
Search Engines Can Be Predictable and Unpredictable
SEO is not only a science, but an art and nobody can predict exactly what Google will do next, nobody! But we have spent a lot of time researching what Google says will help with rankings and we have a lot of history. The services we provide are tried and have worked for our clients through the years. Even so, we are quick to tell you that we cannot promise you any particular results.
Here are some of the main factors that affect search results in no particular order:
Time or history – Google can be slow to change, if they have been trusting you're website for some time, they won't easily give that up. But, we can look into what your main competition is doing. Say they are blogging twice a month, it might be possible to begin to outrank them if you consistently blog once a week and share to social media.
Quality Content – Google loves websites that are updated regularly with fresh, relevant content. They just do! Answering questions potential customers might ask goes a long way to get you found in search results.
Site security, robots text file, and sitemap. Having your site configured properly will help Google gain trust in your website. Trust is key when it comes to what comes up in search.
Websites that are user friendly, this includes site speed and performance. This is the reason we use FLYWHEEL for all your WordPress website hosting.
Websites that don't have broken links or missing title tags and meta descriptions. Having a clean, complete communication with Google is extremely important when it comes to rankings in search.
Duplicate pages. It's really important to make sure your content is fresh, unique and not duplicated.
Incoming links – it used to be that you could easily get links to your website, but Google has wised-up since those days and they actually ding you if it looks like your incoming links are contrived. The best way to get incoming links is to be in local or national online directories that provide a link back to your website. Examples could be your local Chamber of Commerce, local or national industry organizations and, local directories like HelloGeorgetown.com.
Internal Links – This can also be very beneficial for establishing important pages on your website. If you continually link to certain content this will signal to Google that this page contains important information. It's really important that everything be done in a natural way and not spammy. Google is very sensitive to this and can reward those of us who do it correctly.
Note – This is by no means an exhaustive list, but rather some of the major factors that contribute to getting found in the search results.
We hope this information is helpful to you and gives you a better understanding of organic search engine optimization. And most importantly helps you know what you can expect when you either do it yourself, or hire a professional like Digital Donkey to help you get found in search organically.
As always, thanks for checking in with us and reading! We are here for you and would love to answer your questions about digital marketing. Please leave them in the comment area. We will either answer in the comment section or we might do a whole blog post about them. Or both!
Let's Do It!
Contact us here, we'd love to answer your questions and discuss how our very affordable digital marketing programs can help you get more business online!
Let's Get You Some More Business!!
Share this page…
You can learn more about our Digital Marketing Services and Pricing on these pages…