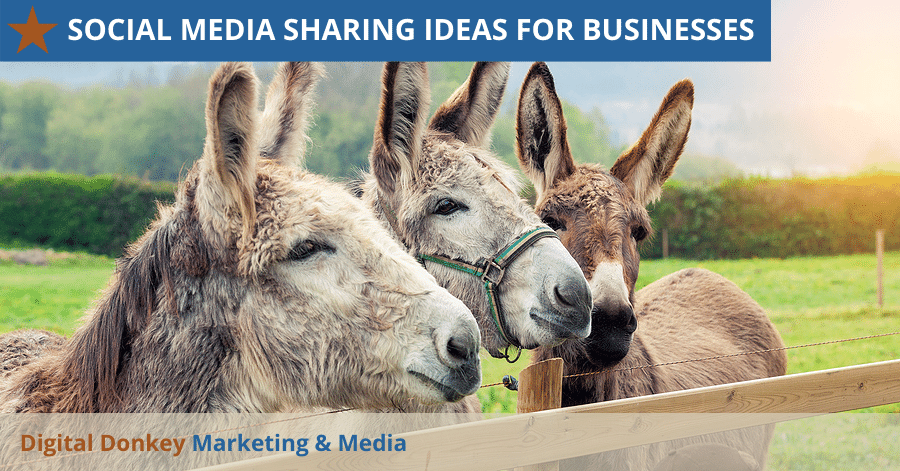 It's always important to have a plan. And that's never more true than when you set out to market your business on Social Media. At The Digital Donkey we help our clients put together a social media marketing strategy that includes a calendar.
Taking the time to put together a social media marketing calendar takes a lot of the stress out of what could otherwise be a difficult job. This calendar might include 3 or 4 specific ideas to be shared each week.
The weeks sharing might include a sale (this might get shared more than once during the week), a new product, industry news or the introduction of a new employee. The idea is to keep it light and friendly so the customers, or potential customers get to know like and trust you.
We've put together a list of potential ideas for social media posts, it's not exhaustive and we are adding to it all the time!
So, here goes…
A Sale or Discount, it's always a great idea to share the risk when asking readers to do business with you. They can take advantage of your sale and learn about the quality of your products, your customer service and your attitude at a reduced price.
It's also a way to create repeat customers. Everybody loves to save money so reducing the resistance by offering a sale or discount encourages new and repeat patronage.
A new product. This is a no-brainer and something your audience will want to know about, especially if you select something interesting to your target market. It might also be something timely like Mother's Day flowers or trendy like certain footwear.
This is where knowing your audience and being on time or on trend with your products can get you plenty of wanted attention.
Market trends. People have been taught to get their news on social media so making them aware of what's new in your industry can set you apart to your target audience.
Special days. You don't want to miss the opportunity to stand out on National Donut Day if you are a pastry shop. And inviting readers to stop by for a freebee can get some new folks in the door as well as bring back your loyal customers. Here's a National Day Calendar filled with ideas!
Never underestimate the power of giving. Even inexpensive gestures can go a long way to create relationships and put you top of mind in your market.
Holiday Greetings. Sending out a special thank you on Holidays like Memorial Day, Labor Day and National Secretary Day creates good will and it's a lovely gesture. Being a part of a community means caring and social media is a great place to show it.
This includes other Holidays like Mother's Day and Thanksgiving. It's always a great idea to send out timely well wishes to your audience.
Reviews. When you receive a great review it's ok to share it. There's nothing more powerful than third party value. Stay humble and appreciative and your audience will learn to love you through the words of others.
Tips. This is a powerful idea. Little tips and tricks that you can share with your audience will help them to get to know like and trust you. Social Media is a great place to share this kind of thing, we all want to know those little industry specific tips.
New employees or employee anniversaries. Appreciation goes a long way, not only to show you value your staff, but your audience will love getting to know who works for you and seeing that you care about them enough to thank them on your social media page.
Births or Weddings. If you or someone in your organization gets married or has a baby this is a perfect time to publicly congratulate them on social media. This will allow your followers to enjoy the happy news.
The same is true if there is a death or disaster that directly affects you or a member or your team. Allow your audience to show they care and be a part of your extended family.
Blog Posts and Articles. It's always a good idea to add new fresh content to your website. But don't forget to share it on your social media pages. You can bring readers right to your website and have an opportunity to make customers out of them, or repeat customers.
Re-post your blog posts and articles. You can use your analytics to see what content was most popular and re-post it. One idea is to re-post seasonal articles again and again. For example, if you specialize in hanging Christmas lights, share your article about Christmas light safely year after year.
Share information provided by influencers in your industry. News and trends can be important to your audience. You can do this by sharing articles or videos put out by influential people in your industry.
Promote your newsletter sign up. This might, but doesn't need to, include a freebee, or a chance to win. You can team up with another business and give away a gift certificate to their business. It's a good way to work together and gain exposure and customers for both businesses.
Create a short video from your day that show interesting parts of your business. Maybe you are redoing part of your store, or getting a new sign. Readers can be interested and it makes you seem more real and promotes empathy and trust.
Share an inspirational quote you love. Be sure to give attribution.
Share something fun and entertaining. This could be industry specific or not. As long as it's tasteful and not demeaning, have fun sharing and letting your fun side show!
Run a contest or giveaway. This will take some planning and strategy.
Ask for feedback. This could be about a trend, or product preference, or "what's your favorite movie?" Engagement is key and people love to share their opinions. It's a great and easy way to get feedback and create a relationship with your audience.
Like we said, we are always looking for more social media sharing ideas for businesses to add to this list. Please don't hesitate to leave us your favorite ideas in the comments below. We would love to hear from you!
Share this post:
---
You might also like…