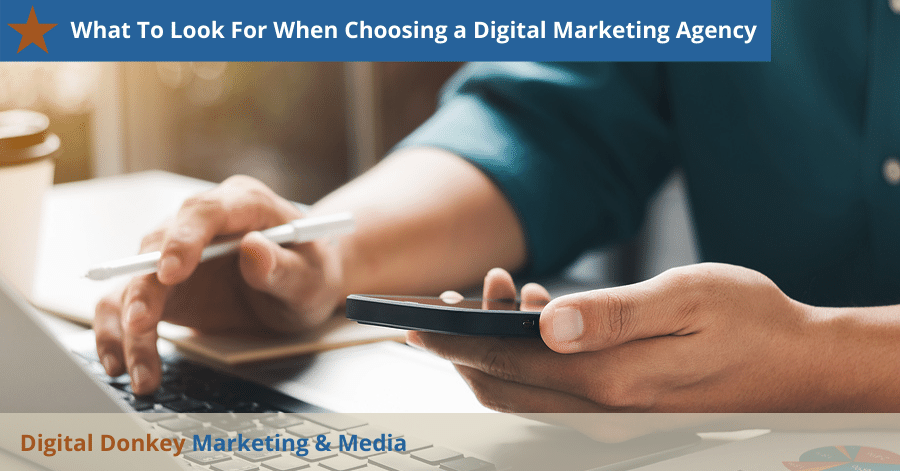 ---
Having been in this business for over 20 years now, we have had the opportunity to speak with scores of small business owners and managers recounting endless horror stories concerning their efforts to find someone to help with their digital marketing.
A seasoned professional will already know what a small business website should include.
A digital marketing company with integrity will only sell you what you need at a fair price. There are just so many bells and whistles a website needs and after that it's just marketing for profit.
To help you with your search for a Digital Marketing Company for your small business here are some things to look for including some red flags to watch out for as you search. We'd love to be your choice but we also don't like seeing anybody getting ripped off by unscrupulous or unprofessional digital marketing firms. So here goes…
Track record
Digital Marketing is both a science and an art. It's true! Having at least a decade of experience and success on the web is so valuable. In this industry it's imperative that you have a chance to learn what to do from experience. It's also just as important that you learn what not to do. Google can be very unforgiving to manipulators and scammers when they catch on.
This is super important. Even if the company you choose is legitimate, you don't want someone new learning on you, it's too expensive! The best way we know to tell you to do this is to do your best to make sure the testimonials you are reading are real.
Along with the person being quoted, they should include the company name and a link if the company is still in business under the same name.
Note – After a digital marketing company has been in business for a number of years many of their former clients have either changed professions, changed business names or sold their company so a link would not apply. But there should be a company name there, even if there isn't a link.
It's just too easy to fake testimonials and reviews, even on Google.
Any digital marketing company that has been in business for a number of years will be able to provide you with references. Be sure to follow up on these and speak with former or current clients.
Transparent Upfront Pricing
Some digital companies claim that they will only be able to give you pricing after speaking with you. It's true, you may have some needs that will require extra programming and SEO on more pages, etc.
But when dealing with a small business it's very easy to give some basic pricing for Website Development, SEO and Content Creation Services. The reason we say that is because we know what every small business needs to succeed and we have already included all of it.
Digital Marketing for small businesses isn't rocket science so don't let anybody make you think it is.
Companies claim to use unique methods
Sorry, but we all learn from the experts and/or Google. Google has specific guidelines that teach exactly what to do and what not to do in order to get to the top of search results. If there is a mystery it's that nobody knows exactly what Google is going to do. But the professional with seasoning and integrity keeps up with any changes Google makes to their algorithms and knows what works time after time from their own experience.
Understandable
You will want a company that is willing and able to explain what they are doing in words you can understand and they do it from start to finish. Watch out for unknown acronyms and website explanations that dazzle you into thinking they really know what they are talking about, but after you read them you still don't have a clue.
Small businesses need practical answers, not creative tactics that trick you into spending extra money on nonsense.
"The Best"
Watch out for companies that promote themselves as "the best". Let their clients say that if it's true and let the clients use their real names and company names.
Reasonable Pricing
Unless you need some very specialized functionality or you are selling hundreds of products on your e-commerce store, your small business website should not cost 10s of thousands of dollars and take seasons to develop. With a few exceptions, your small business website cost should not exceed $5,000 and should not take more than a few months to complete.
Lots of very expensive reports
Most reports are automatically generated via specific software. There are way too many instances when high monthly fees are charged for monthly reporting and make-work that just isn't necessary. You will need some monthly reports, backups, and updates but they don't need to cost an arm and a leg.
Listening
It goes without saying that you need a company that listens to your needs and is a step ahead of you with an understanding of how to get things done in the best fashion.
A win-win-win approach
The only acceptable attitude is that you and your company win, your clients win and your digital marketing company wins. If you listen carefully to what you read and what you hear you'll be able to tell if the digital marketing company you are considering takes this approach.
Too Good To Be True
I recently ran across an ad for digital marketing on my personal Facebook page. As I read through the text that went with the ad I noticed that it sounded really great. From what I was reading as soon as they do a bit of keyword research and learn what your competition is doing they can quickly and easily bring you from no leads per day to 15 to 20. That's ridiculous!
No digital marketing company can make things happen that rapidly, unless they are using pay-per-click, and they were not. You may have seen the ads at the top of search results, those are pay-per-click ads and those companies pay anywhere from pennies to hundreds of dollars when you click on those ads, depending on the competition.
Organic or natural SEO can take some time. It can take up to a few months before you begin to see some significant changes in the traffic to your website, and this is usually aided by blogging and sharing on Social Media. This applies even more if your industry is very competitive online.
Beware of digital marketing companies that promise quick and amazing results. There are other companies getting found at the top of the search results who started marketing ahead of you and it might take some time and effort to get listed above them for the most searched on terms.
Don't despair though, there are some ways to get found! Check out our post, The Problems With Organic SEO – What You Need To Know. There you'll find some honest information about what to expect, both pros and cons.
---
You may begin to think we are not very trusting of much of our industry after reading this. Well, we've seen a lot and heard a lot and we are in the business of bringing our industry up a notch when it comes to digital marketing for small businesses.
---
Contact us here, we'd love to answer your questions and help you get more business online!
---
"After several tries and several failures, we finally found in Ken Partain the trifecta of web builders. Able to not just build an excellent website, he also assists in SEO optimization and social network marketing like no one else.

"Not only did he actually do what he said he would do, but he did it when he said he would do it. A rare thing. And on top of all that, he's a super nice guy and very easy to work with. He made the normally stressful process of building a website an enjoyable experience.

"I would very highly recommend Ken and his company to anyone who is looking to either design and build a new website or to get assistance in making your current website work at peak capacity and get the highest return on your marketing investment."
Greg Roberts – DPS Developments
Share this page…
You can learn more about our Digital Marketing Services and Pricing on these pages…